We are so pleased with the continued success of the Comfort Matters dementia education program, developed right here at Beatitudes and now being implemented in long term care organizations across the United States. With our last update in Teamtalk, we were excited to announce that we were then working with five organizations outside Beatitudes, including the three large organizations that we have been working with for the past four years. Since that report, we have added eight additional long term care organizations including Snyder Village, Metamora, IL; Someren Glen, Denver, CO; Roland Park Place, Baltimore MD; Sharon Towers, Charlotte, NC; Fellowship Square, Mesa, AZ; Judson Smart Living, Cleveland, OH; Lillian Booth Actors Home, Edgemont, NJ; and United Church Homes, Canton, OH.  Of these 13 programs, two have advanced in the application of Comfort Matters to the point of accreditation and are now recognized officially as a Comfort Matters Accredited Organization. Those organizations are Horizon House in Seattle, WA and Schowalter Villa in Hesston, KS.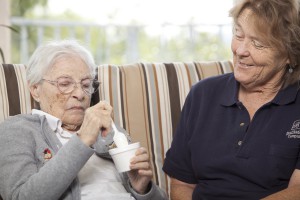 For those of you who might be new to Beatitudes Campus – Comfort Matters is a philosophy, a care practice and an evidence-based accredited education program that offers a holistic and integrated approach to improve quality of care and quality of life for persons with dementia.
As a result of the continued growth of the program and expanded interest we have had the opportunity to add an additional educator to the Comfort Matters team.  Linda Travis started working with Comfort Matters in April and has already made a significant impact to the wonderful work that we are doing all across the country.   She comes to the team with excellent credentials and a passion for what we are doing in this important work and is a perfect fit with our team.
Karen Mitchell is continuing in her role as the Comfort Matters Nurse Educator and we are pleased to announce that, through Karen, the Comfort Matters education will continue to be provided on our campus. Karen will be scheduling one, two hour education sessions each month and one all-day education session each quarter. Staff members can contact Karen for additional information. We encourage anyone who is interested, to sign up and take advantage of this exciting opportunity to learn about dementia and why comfort really matters.
–by
Tena Alonzo, Director of Education and Research, Comfort Matters
and
Ivan Hilton, Director of Business Development, Comfort Matters